Tip Tips to help you while in York
Here is our guide to York's top attractions and facilities.
Top Tips
Here is our secret inside guide to York, discover our top tips below...
---
Did you know... You can jump the queue at the Jorvik Centre by booking in advance - phone: 01904 543402 and have your credit card ready.
---
Did you know... Its free to get into the National Railway Museum!
---
Did you know... You can have a free return visit to the Castle Museum - ask for details at the desk.
---
../what-to-do/kids-activities/
Here's our guide on How to Save Money in York, UK
Here's our top ten guide to some of the most popular things to do and places to see in York:
---
#1 - York Minster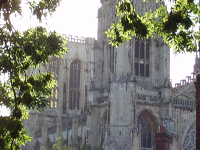 Read more...
Showing 1 - 3 of 3 Articles
---